Less is more
Stinger introduces a new level of Laser protection: Laser HD.
After we developed High-Definition for RADAR, it's now time for LASER to receive it's HD make-over. Stinger Laser HD captures and analyzes laser with severe accuracy, bringing laser protection to completely new heights: High-Def heights. And it does all that with less hardware on your car. Stinger Laser HD employs super compact laser 'eyes' of which an average car will only need two: one Receiver and one Transmitter.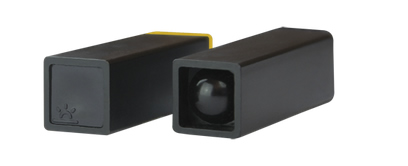 More sensitivity, more power
Stinger Laser HD is more powerful than its predecessor, that combined a Receiver and a Transmitter in each 'eye'. By now building a dedicated Receiver as well as a dedicated Transmitter, the Receiver has become more sensitive, while the Transmitter has become more powerful. ON top, the new Stinger Laser units use the latest technology and software from the Stinger Labs. Combined, all this yields High-Definition performance.
More precision, more guns
Laser HD discerns the virtual blue print of a laser beam, enabling detection of and protection against the most modern kinds of laser guns. Its increased accuracy, sensitivity, and power make Laser HD ideally suited to sniff out and outsmart even the most modern and nifty laser devices.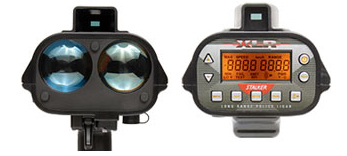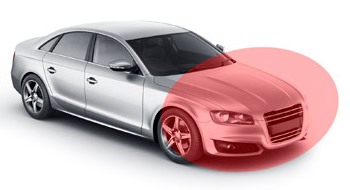 Less Hardware, more coverage
Another cool thing about Laser HD is that you will need to have only a minimum of hardware installed in your car for it to reach its hyper efficiency. Stinger Laser comprises the smallest possible laser 'eyes' and the front or rear of an average sized car, like a BMW 5 series or Audi A6, can be protected by just two HD units: one Receiver and one Transmitter. Some larger cars may need one or two more. Up till Laser HD, this required either more or much larger laser units.
Seamless laser integration with your Stinger
For optimal protection against laser*, the choice is easy: Stinger Laser. Only Stinger Laser HD seamlessly integrates with your Card, DSI or VIP. Only Stinger Laser is easily updatable by the user and therefore highly future proof. Only the advanced level of Stinger Laser provides integrated protection against modern side-lasers. And only Stinger Laser is covertly small.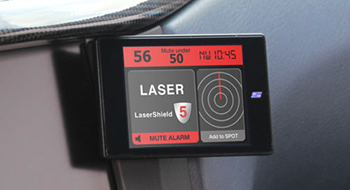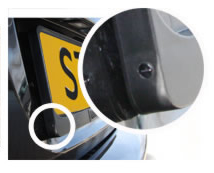 Laser fiber: Stinger's unique side laser protection
Additionally, we offer unique protection against side-laser speed traps*, the lateral laser traps used in more and more countries throughout the world. With breakthrough engineering Stinger has developed laser units the size of pinheads that can easily be placed in the required lateral position at the front or rear of the car: Laser Fiber.
Laser Square
The Laser Square becomes completely covert when placed between the grille blades.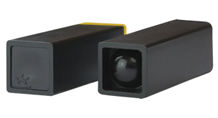 Laser Fibre (optional accessory)
Only Stinger Laser Fiber provides integrated side-laser protection, with just the tip of the fiber optic cable requiring a clear view (towards the side of the road). It will go virtually unnoticed anywhere.

– Completely redesigned
– Smallest lasers in the world
– Seamless integration with Stinger VIP
– Separate receiving and transmitting lasers – an industry exclusive
– Next generation adaptive jamming technology
– Jams fixed PPS, VPR and the latest RPR Lidar guns
– User selectable jam time with touch screen display of remaining jam time
– Directional threat indicator
– Specific lidar model threat indicator (audible and visual)
– Optional ENRADD jamming side lasers – an industry exclusive
– Facility for up to 8 lasers, 4 per each end of a vehicle (2 front, 2 rear supplied as standard)
– Complete protection for small performance cars to larger performance cars, SUVs and trucks
– Eye safe FDA CLASS 3R (CFR 21)
– USB updateable via Stinger Desktop